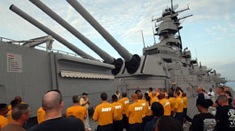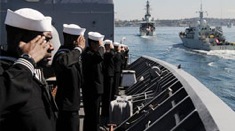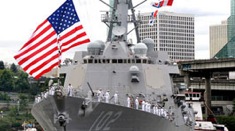 U.S. NAVY BIRTHDAY
October 13, 2017 marks the 242nd Birthday of the U.S. Navy. To celebrate, the Navy's 3rd Fleet will put the best of the U.S. Navy on display at the 2017 Sea & Air Parade. Spectators can experience the best of the U.S. military on display and in action with destroyers to submarines, plus a Navy SEAL demo, a flyover of contemporary Navy and World War II aircraft, and much more.
The parade will run the length of San Diego Bay, beginning at Shelter Island with viewing areas all along the bayfront, from noon until 2 p.m. Spectators can view the action all along the San Diego region waterfront, from the South Bay to Coronado, the Embarcadero, Harbor and Shelter Islands.
The Sea & Air Parade is scheduled for October 14, 2017 with ships tours on Broadway Pier Oct. 12-17, 2017.
This program will be distributed "free of charge" to all Naval bases and off base housing in San Diego on October 9, 2017.
View the 2017 Navy Birthday program by clicking [ here ]