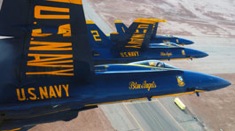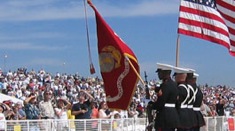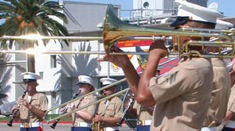 AIR SHOW
The Miramar Air Show is San Diego's largest weekend event. No other event in San Diego attracts more than 800,000 spectators in a weekend. The 2022 Air Show is scheduled for September 23-25, 2022. The Miramar Air Show Program offers awesome exposure opportunities with an interested and affluent 'captive' consumer group.
The Miramar Air Show has all the excitement necessary to attract hundreds of thousands of people to the biggest annual event in California. As the largest military air show in the nation, the show features military and civilian performers and static aircraft displays from around the world.
Headlining this year's show is the U.S. Navy Blue Angels demonstration team. Other notable attractions include the Marine Air-Ground Task Force demonstration, the F-35B Lightning II Joint StrikeFighter, and the Patriots Jet Team.
The Blue Angels. Miramar Air Ground Task Force demonstration, civilian aerial performers, a complete display of military hardware, and of course, the incredible Marines from Air Station Miramar are sure to bring delight to everyone at the show. You may never have so many potential customers in such a short period of time!
Don't miss this opportunity! Admission, parking and the Official Program are all FREE to the public.
View the 2022 Air Show program by clicking [ here ]